This Months Featured BEER
House IPA
An approachable IPA, balanced by notes of pine, grapefruit, and hints of stone fruit.

IBU: 41

SRM: 9

ABV: 6.4
Let's Get Social
We're in business to make people happy
What a fantastic brewery! Talked with the co-owner Darla and she was very pleasant and knowledgeable. Such a great experience. Beer was absolutely amazing. Pretty sure if we were local , this would be our brewery of choice. Congratulations!

Kelly Press

GOOGLE REVIEW

Just found out about this place and got to try their Nitro stout. It was awesome! I am excited to go back and try more of their creations. The owners are awesome. Service is great and I am excited to get back with my friends and family.

Regenerate Scottsdale

GOOGLE REVIEW

One of Kelowna's newest breweries! I checked it out for their one year anniversary and it did not disappoint. A good selection of well crafted beers and a nice set up. They even have a few tables with some retro gaming (Super Nintendo) for patrons! Great idea!

Benjamin Woolhead

GOOGLE REVIEW

Always a great selection of fun beers. Love that they usually have 3+ IPAs on tap at a time. Copper is definitely my go to brewery in town!

John S

GOOGLE REVIEW

Amazing knowledgeable staff with a wide selection of delicious beer to choose from. Great experience for newbies and beer enthusiasts alike.

I specifically enjoy all the IPAs they brew which is personally very rare as I am not normally an IPA fan. Their beers lend to a more aromatic profile which enhances flavours all the more. I'm always excited to pop in and see what's new on the menu or to fill up some growlers on my way home.

Sammy Eichele

GOOGLE REVIEW

Absolutely a pleasure checking out this brewery. Darla was extremely knowledgeable of the beers they brew and very welcoming. This will definitely be a staple of every visit to the Okanagan from now on.

Rodd Carroll

GOOGLE REVIEW

This brewery has Super Nintendo in their booths!! How frkn cool is that? No charge to use them. They also have a wicked selection of board and card games, all in excellent condition.

Huge selection of delicious beers, great range and variety for every beer drinker. Super comfy seating, everything is so clean and you can tell no detail was overlooked in the designing of the place. Highly recommend grabbing some beers and playing Mario Kart!

Meghan Carr

GOOGLE REVIEW

Such a sweet little spot, I head to Coppers quite a bit. Lovely beer, friendly staff and great poutine from next door 😄

Emmet O'Connor

GOOGLE REVIEW

Finding over 20 beers here was a great surprise; the hazy pale ale was a solid 8. The order-in food from the next-door smoked meat place was also really good. This place is a new favorite.

Robert Kee

GOOGLE REVIEW

Very friendly and attentive staff , great beer ! fooseball table is a good bonus

Holly Naylor

GOOGLE REVIEW

My wife and I tried 4 samples each and all of the beers are excellent!

Tracy Wong Tracy Wong

GOOGLE REVIEW

Great selection of unique and tasty brews. Great food from MTL too!

Graham Sullivan Graham Sullivan

GOOGLE REVIEW

Best beer ever! The owners and staff are wonderful. Great atmosphere.

Kim LaChappelle

GOOGLE REVIEW

Dog friendly patio and great beer. Had a flight with an Oatmeal Stout, Hazy Pale Ale, Peaches & Cream Wit, and Passionfruit Sour – all were great.

Alex L

GOOGLE REVIEW

Tried a few beers here. Peach and cream, blackcurrant sour, cherry saison, and one other sour (passionfruit?). Really enjoyed the sours, took some blackcurrant home. Good beer!

David Wilkinson

GOOGLE REVIEW

Great rotating selection, dog friendly and awesome staff. What more do you want?

Ryder Holuboff

GOOGLE REVIEW

Great staff and owner's. 20 taps full of local craft beer and cider. Every beer I've tried has been exceptional.

Dustin Laverty

GOOGLE REVIEW

Excellent, easy drinking craft beers! The pale ales have a nice balance of hops and fruity notes. The nut brown has a smooth, malty flavour and the blond ale is perfect for a hot summer day.
Along with great drinks you can also order food prepared by MTL.
Their booth seats also have Nintendo game systems that you can play!

Heather Treadgold

GOOGLE REVIEW

Great tasting beer. Had some nice conversations with the owner Sean.
And don't forget to leave with a growler, keep the buzz going!

Mark Hoffman

GOOGLE REVIEW

Impressive brewery, very friendly and fun staff, great beer selection, growler fills and off-sales, food available, central location… what else could you ask for? A new favourite!

Jordan Donovan

GOOGLE REVIEW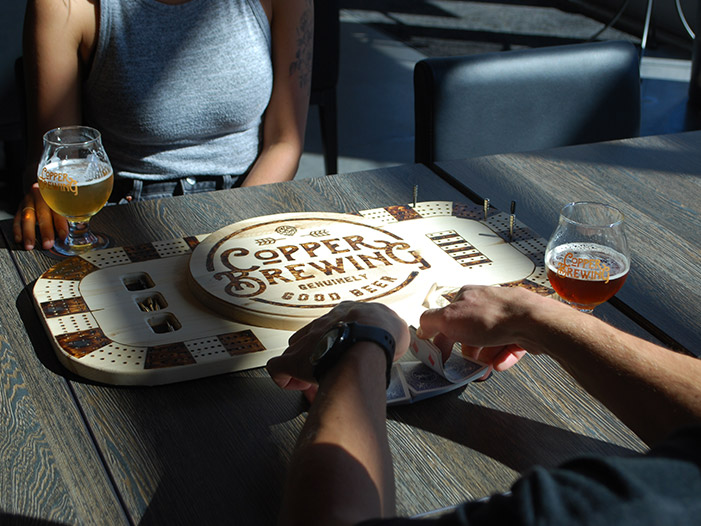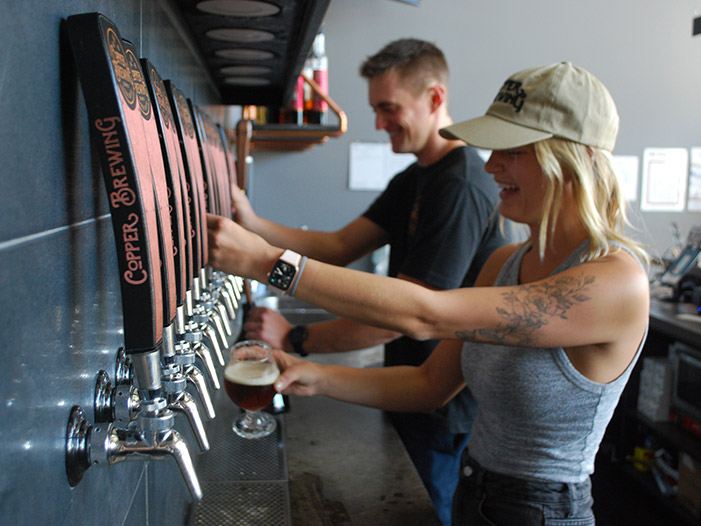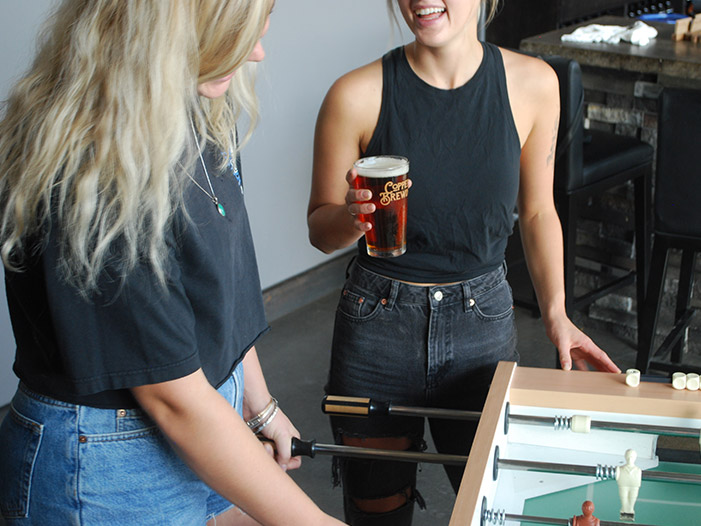 FOOD SERVICE
Brought to you by
montReal Foods
Located in Kelowna's distinct Landmark District, MTL is a love letter to Montreal from Executive Chef Mathew Morazain. Inspired by Quebecois classics, Mathew has put an inimitable twist by combining classic ingredients with locally produced Okanagan fare.
CHECK OUT MTL FOODS' MENU
Mid-Town Station
In the heart of the Landmark District, Mid-Town Station is one of Kelowna's premier stops for delicious contemporary food and drinks.
CHECK OUT Mid-Towns MENU
Visit Us
1851 Kirschner Rd #102, Kelowna, BC
© Copper Brewing 2021 | Website by Kelowna Website Design